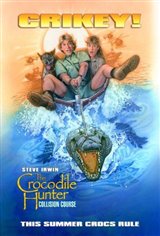 The Crocodile Hunter: Collision Course
4.05/5
Based on 10438 votes and 36 reviews.
Please rate between 1 to 5 stars
Showing 1-10 of 36 reviews
October 25, 2006
cricky i will miss him he was a beauty
September 17, 2006
hi this iz kurt i miss steve irwin so mutch he was a very nice man to miss u a lot steve
September 8, 2006
IT WAS GREAT, and I think you should watch this, as well as the Wiggles video "Wiggly Sufari" and as meny episodes of the TV show as you can, to be kind becuse he died on Monday September 4, 2006 because he was bitten by a stingray. If any of the Ireans are reading this review, you should know that he was my hero, and when I heard he died, I was crying my ass off.
September 5, 2006
it was magnificently grand !!!!!!!!!!!!!!!!!!!!!!!I love you stevey!!!!!!!!!!!!!!
September 4, 2006
It is a very amazing show and Steve Irwin was one of the greatest crocodile hunters out there, and his death has taken a toll on all of us. With deepest Sympathy to his wife Terri and their 2 children. His children will always remember what a great dad they have.
September 4, 2006
Very good and entertaining, shame he died. 2/9/06 r.i.p.
January 15, 2006
I thought the movie was a joke. The only good part was the Stunningly Beautiful Kate Beahan.
October 13, 2005
I loved this film. Steve Irwin has so much charisma, and you can see he really loves animals. I hope he makes a sequel, I really loved this one, it was really funny and entertaining.
October 13, 2005
It is funny.
September 28, 2002
Ain`t This a Beauty! Sorry I couldn`t resist doing a lame Steve Irwin Impression. Awesome movie though.