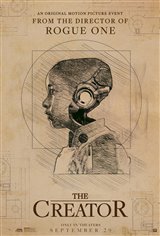 The Creator
| 32 Reviews
Write a Review
In Theaters: September 27, 2023
On DVD/Blu-ray: December 12, 2023
3.28/5
Based on 72 votes and 32 reviews.
Please rate between 1 to 5 stars
Showing 1-10 of 32 reviews
November 6, 2023
People took this movie too seriously. It was an entertaining movie.
November 5, 2023
Totally boring movie...and B acting as well I can't believe I wasted my time watching this...
November 1, 2023
I liked the movie ! I can watch it again ! love the Actor Washington.
October 30, 2023
Spoiler alert: AI wins and humanity loses and we are supposed to believe that's a good thing. Shocking Transhumanism glorification. Note the one world government of " new Asia" - portrayed as peace loving wonderful people but humans, particularly Americans, are evil and deserve to be eradicated. It's like a wet dream of the world economic forum. Scary and give them ZERO money- skip this piece of programming.
October 29, 2023
Yes, the film was obviously anti-american but that didn't disturb me half as much as a movie basically implying machines are equal to, just as "human" and as important as human beings themselves. Very disturbing indeed as AI starts to emerge in our society.
October 28, 2023
I liked it a lot and it made me feel like I could watch it again and again
October 28, 2023
I liked the movie in general because I liked it so much that it made me feel like I could just watch it again and again
October 25, 2023
This was everything I thought it would be. Action packed and a tear filled ending. The rise of AI is an issue and for a new movie (not another crap filled woke remake) I thought it was spectacular!
October 24, 2023
If you can look into the mirror and acknowledge what you see, you'll be engaged by this movie. I didn't expect to like it but was pleasantly surprised to find truths woven into the story line. Not perfect but perfectly invested in the truth of today's world governance. Break free and enjoy this film!
October 22, 2023
Stupid move. Nothing to do with what others are posting about anti this or that. It was just a poorly directed and edited movie. Waste of time and money which is sad because I was so looking forward to what I thought would be a very cool movie. Extremely dissatisfied but at least the popcorn was good.