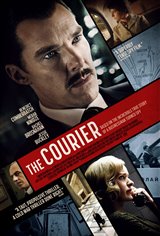 The Courier
6 Reviews
|
Write a Review
In Theaters: March 19, 2021
On DVD/Blu-ray: June 1, 2021
PG-13 | Thriller | 1h 51m
5/5
Based on 5132 votes and 6 reviews.
100.00%

0.00%

0.00%

0.00%

0.00%
Please rate between 1 to 5 stars
Showing 1-6 of 6 reviews
April 10, 2021
Do not miss the true story so well done.. Talk about risk takers, we are alive today due to these brave men and woman.
April 8, 2021
Well done. Moved at a good pace. Good music choice. Good casting.
March 31, 2021
Don't miss this true story, won't want to leave your seat. Suspenseful, and the end will be unexpected. Thanks to these brave men we are all alive today with no nuclear war.
March 26, 2021
Very interesting story, kept me hooked from the beginning. Two very brave men who risked much but remained true. Would recommend it to all adults.
March 23, 2021
GOOD MOVIE. Based on true events, even better. History every American Adult should know about. Acting was excellent, story keeps you glued to your seat. I recommend this film 100%.
March 20, 2021
Learned many interesting details about the Cuban missile crisis. Movie moved well, cast was spot on. Gave the audience just enough levity when appropriate; for such a serious subject.