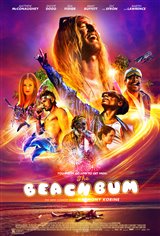 The Beach Bum
38 Reviews
|
Write a Review
In Theaters: March 29, 2019
On DVD/Blu-ray: June 18, 2019
R | Comedy | 1h 35m
2.16/5
Based on 90 votes and 38 reviews.
21.05%

5.26%

5.26%

5.26%

63.16%
Please rate between 1 to 5 stars
Showing 1-10 of 38 reviews
August 7, 2019
A movie about an a**hole
July 15, 2019
I saw the preview of this movie and it looked intriguing I waited with anticipation until I was able to watch it. In review this was one of the worst movies I have ever seen and I could not finish watching it.
July 14, 2019
Oh look! Another men are stupid morons who need to be taught by the ever so wise women. I am so sick of this woke garbage.
July 11, 2019
More movies like this one, please.
July 8, 2019
I am a regular movie goer and found this movie to be the worst movie I have seen in awhile. Considering the cast, I had hoped it would have been good. This was a disappointment and a waste of time and money to watch and rent.
July 2, 2019
NO Stars. The worst movie EVER!!!! Matthew I pray your kids never see this movie. You are one of my favorite actors. WHY????
July 2, 2019
THE WORST MOVIE I HAVE EVER SEEN. Disappointed because it had a great cast. Zac and Matthew what were you thinking?
May 4, 2019
pass pass pass
April 13, 2019
I'm not sure if I want to see this movie,,I was puzzled by some of the reviews. But has sex scenes!.,I am there yeah! 😜
April 13, 2019
offbeatcomedyslingshotsaround