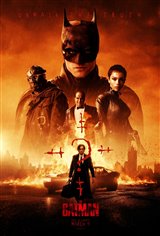 The Batman
| 166 Reviews
Write a Review
In Theaters: March 4, 2022
On DVD/Blu-ray: May 24, 2022
3.26/5
Based on 768 votes and 166 reviews.
Please rate between 1 to 5 stars
Showing 1-10 of 166 reviews
April 30, 2022
More stuff fromthe minds of adults to take childrens money.
April 27, 2022
People who didn't like this probably just don't like the fact that it doesn't follow the typical superhero movie expectations and formula. It's very well done.
April 22, 2022
First time in a long time we've gone to see a movie at a theater multiple times. Which is crazy for such a long movie. But it is just that good. The cinematography is fascinating and the actors were perfect! Best Batman movie we've seen... Ever. It is not your typical superhero movie. More realistic. Really loved it!
April 18, 2022
Stupid Marvel movies are trash, heres a movie down to earth that is somewhat realistic. Internal struggles and wicked vibes.
April 17, 2022
Script, casting, acting, visuals, sound design. Almost everything
April 16, 2022
Fantastic effects, focuses on the Detective aspect of Batman. Shows a still-developing, first few years look at the character. Amazing take on the villain, one of the best Batman movies.
April 15, 2022
it sucks so much gore and vilonce it makes every body uncomfertable
April 14, 2022
This movie told the tale of Batman, as it was conceived. What an amazing world we entered from so long ago. Many of us have been waiting to see the real story instead of the hyped up version. I like the modern take. I love this one. I hope more are made in this line.
April 11, 2022
It had good lighting for a dc movie and it was great