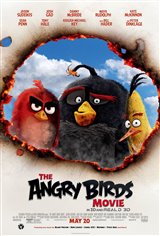 The Angry Birds Movie
18 Reviews
|
Write a Review
In Theaters: May 20, 2016
3.79/5
Based on 52 votes and 18 reviews.
50.00%

20.83%

4.17%

8.33%

16.67%
Please rate between 1 to 5 stars
Showing 1-10 of 18 reviews
November 5, 2018
TERRIBLE AND 0 STARS
November 14, 2016
not funny bad story line.
August 18, 2016
My friends and I laughed so hard throught the whole thing and we are in our mid 20's, people need a good sense of humour, but id say for 13+ for sure. Cant wait for the second one =)
July 18, 2016
Couldn't make it through the whole movie. It was decent enough though.
July 4, 2016
Great movie, but it is definitely not a movie for a younger audience. Not sure what the rating for this movie but correct me if I am wrong. PG13.
June 15, 2016
I took my grandchildren to see this movie and we walked out and got our money back. I thought there were quite a few inappropriate parts for children especially. Very disappointed that this is considered a children's movie.
June 13, 2016
It was ok. Slow, but ok. It's been so long since I've played the game, I completely forgot there was a bird that blew up. It was more like cynical bird movie for a while.
June 3, 2016
Great fun for kids and adult kids alike
June 2, 2016
Its funny:)
June 1, 2016
I have the game it looks funny