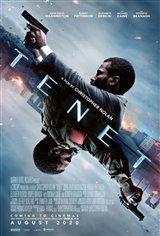 2.52/5
Based on 278 votes and 94 reviews.
Please rate between 1 to 5 stars
Showing 1-10 of 94 reviews
May 28, 2021
My wife and I watched this on demand the other night. After about an hour my wife got smart and suggested we turn on the close-captioning function so we could actually follow the story and dialogue. Mr. Nolan, your movies are first-rate when it comes to overall production values and visuals, but my gawd, please tone it down a bit with the background music so we can hear the actual story! This was worse than watching a Michael Bay movie with respect to the volume of the music. As for the story, there was a really good idea and a really good movie in here somewhere, but it just didn't click for me.
January 15, 2021
Poor actor play
December 25, 2020
Another well done thriller movie from someone who never let me disappointed with his works.
December 22, 2020
Its an action thriller film
December 14, 2020
I FF through most of the movie, then stopped watching in the last 1/3. What a convoluted waste of political correctness time.
December 3, 2020
I think most people (who dislike this movie) are just having trouble gathering and processing all of the information contained within the film (I'll admit, it's dense!). I think it took me 3 viewings of the film to process all the information. Some may see "3 viewings" and think "it's ridiculous to have to see a movie 3 times to grasp it!" To that I say, sure. But, that is the case with Mr. Nolan. His films are not for the casual movie-goer. I like to think of Mr. Nolan's films as puzzles; they take a bit of time and brain power to unlock, but it is so gratifying once you finally do. My take: this movie is a modern masterpiece and, if you're willing to invest yourself in unlocking this puzzle, I think you'll feel that way too.
November 22, 2020
Mind you I am a bend time/space enthusiast...reason it was alluring I was ready to walk out in first 30 minutes, however, hung in and was absolutely MAD at myself for not walking out two hours later... confusing, jumps all over the place, just poor delivery! In the end a huge (extremely LOUD btw) waste of time and of course money!
November 14, 2020
Saw at AMC with the DOLBY SOUND EXPERIIENCE (AMC Danbury, Ct) Great rush from start to finish.....
November 14, 2020
To music loud and did not understand the movie to complicated but the action was great.
November 13, 2020
I agree that the volume could be an issue so bring ear buds because the journey is well worth it.