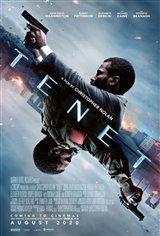 2.54/5
Based on 200 votes and 67 reviews.
Please rate between 1 to 5 stars
Showing 1-10 of 67 reviews
September 28, 2020
Took a bit to understand, but with good reason. So intense and exciting! Gonna go back and watch again
September 26, 2020
I couldn't keep up and was lost the whole movie. I kept wondering when it was going to end. Good Camera work though.
September 25, 2020
if inversion was real i would of got my money back and my 2 hours would of been save from sucking the will out of my life watching this over kill going back words movie, it was a good thing i was at the drive in to watch other film because if i wasn't i would of got my money back for real
September 23, 2020
A nonsensical plot that turned over stones for no apparent (or explained) reason. It didn't provide adequate character development that would help the audience tolerate the insufferable numbers of holes in the premise. It's a shame. The film was well acted but they could only work with what they were given.
September 23, 2020
long and dull at times
September 22, 2020
Remember Inception. Same director. Layer after layer, but well told and easy to follow. Good characters, story telling, and music. This is the complete opposite. Lightening does not strike twice. The actors are B grade, the story is beyond appalling, and the music by some heavy metal stoner is deafening. Save your money.
September 22, 2020
Loud, confusing, and tedious. But if you're desperate enough, you'll go see it, but few stick around to the end, because by that time the popcorn is gone and you no longer care to watch.
September 22, 2020
Loved everything about it. Lots of content that keep you wondering and thirsting for more.
September 20, 2020
The movie a ground breaking concept in same fashion as matrix was but needs work putting it together, plus difficult to understand characters unfortunately portion of dialog they are in mask. The Visual effects and location are incredible, but some piecing of th film needs work.
September 19, 2020
BAD MOVIE!!!! I dont understand the high ratings!!!!!!! 6 people went to see it and all 6 says its horrible!!