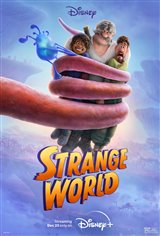 2.08/5
Based on 186 votes and 66 reviews.
Please rate between 1 to 5 stars
Showing 1-10 of 66 reviews
January 8, 2023
"Woke propaganda"?? Reading the negative reviews was an education that made me feel worried and sad. The movie, on the other hand, was visually beautiful - enough to make you feel wonder. The plot, while not exactly innovative, was entertaining enough. It felt worth the money and the time.
January 7, 2023
Indoctrination at its finest! Call me a bigot lol you are the one lying to yourself. World would be better if we all spoke German.
January 7, 2023
This movie was very cute, the bigots that can't stand seeing a gay kid or an interracial couple need to shut up and look up a movie before going to it then and realize the world is becoming a better place whether or not they wanna join. The movie was very good my friend and I liked it and I even went a second time with my nieces and nephews and they loved it! I was surprised how much I actually enjoyed the movie
January 4, 2023
Okay this movie was about the dumbest movie I have ever seen. My granddaughter at the end she looked at me with a blank face and said what just happened nanna? Very colorful movie enjoyed that.
December 30, 2022
Very cute and nice to not have white straight couples shoved in my kids faces for once.
December 29, 2022
New woke bullsh!t movie from disney... Promoting gay stuff in a child movie isn't ok!!
December 29, 2022
Shame on Disney. Do not take your children to see this. Trying to teach innocent children that being gay is ok. It is not ok!! It is wrong and it is disgusting Read your Bible!
December 24, 2022
Great characters with a lot of diversity. I love the underlying messages to kids. Cute first movies for my kids and they loved it!
December 24, 2022
KUDOS DISNEY! Another colorful adventure taking you through a modern world.
December 23, 2022
No definitive plot and Disney wasted all the political woke pandering in the first 20 minutes. Of course it was simply designed to make you feel shamed into watching. If you walk out (bigot!) if you hated the story line (science denier!) if you didn't like the moronic lines (you a Nazi)...lol Not one person liked it, no one stayed all the way through...I refused to bring my kids till I pre-screened it. I won't be taking my kids...it's basically a bad mushroom trip mixed with drag queen story time.