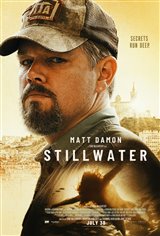 Stillwater
| 17 Reviews
Write a Review
In Theaters: July 30, 2021
On DVD/Blu-ray: October 26, 2021
3.25/5
Based on 40 votes and 17 reviews.
Please rate between 1 to 5 stars
Showing 1-10 of 17 reviews
September 10, 2021
Really enjoyed this movie, Very great balance of acting, character development, production, and direction. Was better than I expected, lots of nuance in the characters and the plot. Hadn't read the book, but this more than stands on its own merits. If you want to take a break from the standard fare of superheroes, animation, and horror flicks, this is well worth your time. Gave me some ideas to think about. Have to say my son (19) who has a very black and white view of the world was somewhat disappointed as he could empathize with the protagonist and there wasn't a clear cut villain.
August 29, 2021
I liked how he kept fighting for her to get out of prison. I loved the way he made the connection with the little girl l wished it was longer. At the end of the movie when he said everything didn't look the same that where I knew that he wanted to go back to be with the girl and her mom. Please make a second one because I think he was wanting to go back to them.
August 25, 2021
This movie turned out to be better than anticipated...good acting, decent script as far as this genre of movies goes. Shades of an actual news event several years ago. In the end we left entertained.
August 21, 2021
I liked this movie! Matt Damon was great in his role.
August 18, 2021
For those thinking this was based on the Amanda Knoxx story, it is NOT. This movie dragged on and on and could have been cut in half. Save your money and wait for Netflix if you really want to waste 2 hours and 20 minutes of your life. Huge disappointment ....
August 17, 2021
Storyline, fantastic acting, thoughtfully directed,
August 13, 2021
Pretty lame, but Abby was good as always.
August 13, 2021
Good plot that moves along. Kind of a poor man's version of "Taken" where the dad is working all he can to get his daughter back to the states.
August 11, 2021
The acting was excellent..but the movie just dragged on far too long! It seemed like it was never going to end!