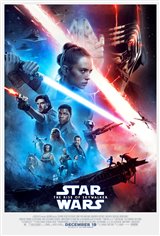 Star Wars: The Rise of Skywalker
352 Reviews
|
Write a Review
In Theaters: December 20, 2019
On DVD/Blu-ray: March 31, 2020
PG-13 | Action, Adventure, Fantasy, Science-Fiction | 2h 20m
3.87/5
Based on 1150 votes and 352 reviews.
63.27%

5.59%

4.99%

6.99%

19.16%
Please rate between 1 to 5 stars
Showing 1-10 of 352 reviews
March 31, 2020
movie looked very good , glad han solo returns.
March 31, 2020
movie looks good like leia and rey
March 17, 2020
10 minutes into I deleted it into the trashcan. Rey doensn't look nearly as cute as her first movie, the battle scenes were stupid and re hash of 1990's graphics, cheaply made, predictable and boring. The S Wars machine cranking out another POS for the aging below the bell curve fan base.
February 22, 2020
Very enjoyable. One of the better Star Wars movies.
February 21, 2020
Exciting new Skywalker.Can't wait until the next one is out!
February 16, 2020
A good end to the saga. Answers question from many other episodes. Really enjoyed this movie!
February 13, 2020
I LOVED THIS MOVIE! The movie was easy to understand and very touching. The movie never kept me bored, it was sooo intense and incredible!!! Definitely watch it!
February 12, 2020
Excellent ending.
February 12, 2020
A nice finish to a great saga!!!!
February 11, 2020
Amazing fantastic science fiction movie.