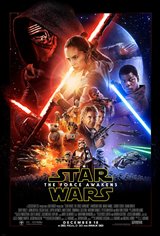 Star Wars: The Force Awakens
321 Reviews
|
Write a Review
In Theaters: December 18, 2015
3.59/5
Based on 2778 votes and 321 reviews.
55.01%

6.61%

6.82%

5.76%

25.80%
Please rate between 1 to 5 stars
Showing 1-10 of 321 reviews
March 31, 2020
not bad .
March 24, 2020
harrison ford is really good as han solo.
February 18, 2018
original is better
February 18, 2018
pretty good. if you saw the originals in childhood, you'd relive the memories, like when finn said, no, that's garbage. (other ship explodes) we will take the garbage., then it shows the milleneom falcon. CLASSIC!
February 10, 2018
This newest trilogy is my favourite. I think it´s even better than the original. The new characters work together with the old ones amazingly. It has the Star Wars atmosphere we remember from the original trilogy but of course also modern effects.
May 19, 2016
better than the previous episodes shot recently
May 8, 2016
Sad. Watch the original. This is basically the same film...just much worse.
May 7, 2016
Loved it! Definitely brought back memories of Childhood when you see the original cast! It was a great meeting of old and new.
April 27, 2016
Not a rehash and not like episode four. Go rewatch the prequels that you probably hate as well. Yawn
April 18, 2016
Very disappointing. Typical Star Wars Hype. Same movie as the original classic. Same characters except they are older. What's the big deal.