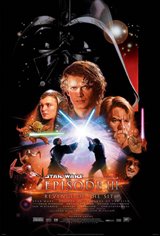 Star Wars: Episode III - Revenge of the Sith
692 Reviews
|
Write a Review
In Theaters: May 19, 2005
PG-13 | Action, Adventure, Fantasy, Science-Fiction | 2h 20m
4.31/5
Based on 38186 votes and 692 reviews.
79.97%

2.59%

0.90%

1.75%

14.79%
Please rate between 1 to 5 stars
Showing 1-10 of 692 reviews
July 11, 2010
BEST OF THE ENTIRE SERIES!
July 25, 2009
greatest film of my life!
July 20, 2008
One of my favourite movies of all time loved the fight at the end it was my fav star wars scene out of the saga
December 11, 2007
wicked awesome!!!!
April 18, 2007
i think it was awesome, but they need to make another movie conected to finish off the series, and possibly redo the original trilogy to make it more actiony
March 28, 2007
You`ll either love or you`ll hate it, there isn`t an in between. I for one love it! It was a great story line and it went with the originals (it didn`t destroy them).
March 24, 2007
Best movie ever!
March 13, 2007
it is the best movie ever
March 13, 2007
star war`s is the best movie i have ever seen!!!!!!!!!!!!!!!!!!!!1
March 13, 2007
i think it was very good i would watch it 1000000000000000000 more time`s