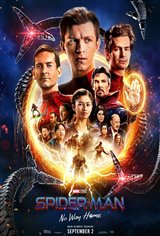 Spider-Man: No Way Home
| 181 Reviews
Write a Review
In Theaters: December 17, 2021
On DVD/Blu-ray: April 12, 2022
3.4/5
Based on 724 votes and 181 reviews.
Please rate between 1 to 5 stars
Showing 1-10 of 181 reviews
September 3, 2022
The Great: Yes, it was cool that they brought it Toby and Andrew... but it was not just a gimmick, they actually tied up plots, continued character arcs, and further developed them. They did not just use the characters to further their own story like some soulless pawns (*cough... America Chavez*). It was a beautiful send off to all the older characters. The Bad: Though... poor Dr Strange so nerfed so bad, that was actually pretty disgraceful. The Dr is a joke in this movie (Ned is a better wizard than him? What?) And if you do not know (like, KNOW) the previous movies, you're gonna be lost. But if you're a Spidey fan... wow, they nailed this.
September 3, 2022
love how they added all the other spidermans
September 3, 2022
The best part of this movie was Gaspar, (the farting gremlin).
September 1, 2022
I loved seeing previous actors return, and I really liked the story. I hope they do get to make another trilogy, given the ending.
September 1, 2022
Incredible film. Recommended to anyone a fan of Spidey
April 19, 2022
Brilliant writing and pacing with enough gravitas balanced with some truly funny moments = one great movie. Stan Lee, Jack Kirby and Steve Ditko would be proud 🙏
April 17, 2022
Movie is awesome lovie the final battle, Tom tobey and andrew were great in this movie. Far from home and No way home are the best marvel movies of all time.
April 16, 2022
The entire plot was contrived, and it's hard to imagine anyone put much thought into the creation of this movie.
April 2, 2022
Great movie, Tom Holland is great as spider man.
March 27, 2022
It wasn't bad. I would recommend watching on DVD or TV...