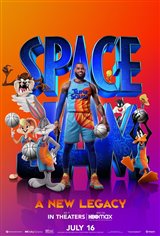 Space Jam: A New Legacy
| 18 Reviews
Write a Review
In Theaters: July 16, 2021
On DVD/Blu-ray: October 5, 2021
4.3/5
Based on 214 votes and 18 reviews.
Please rate between 1 to 5 stars
Showing 1-10 of 18 reviews
June 24, 2022
The original SPACE JAM film was mediocre at best, but it was a masterpiece compared to this junk. The product placement and advertising never stops. This SPACE JAM has more in common with billboards than movies. And it just wasn't funny at all. You should only show this to kids as a form of punishment. Watch the old Looney Tunes cartoons instead.
February 6, 2022
Even better than the first! 5/5
December 1, 2021
I never expected a masterpiece going in. I just wanted it to be fun and enjoyable, and it was! Not only do I think people are hating on this film too much, I don't think it's been given enough credit for what it did accomplish; fantastic animation and visuals, good development between Lebron and the son and even some emotional moments. Regardless of the excessive IP branding, I thought it was cool to see the Looney Tunes interacting with other WB properties and universes. That's good enough for me.
September 3, 2021
The movie is entertaining and the idea of the game inside a video game is with the times. Took our 4 and 7 year old grandkids and I am sure a lot of things they didn't understand. They don't even know the Looney Tunes! They love basketball and Lebrun that's why we went. This movie is for older kids.
August 6, 2021
LeBron James & Bugs Bunny, AWESOME ! ! ! ! !
August 3, 2021
H I G H L Y R E C O M M E N D E D
July 31, 2021
T W O T H U M B S U P ! ! ! !
July 24, 2021
Like It Or Dislike it I thought I wasn't that Bad and I Had Fun. I liked the Parts perhaps except one brief part. Others when I Was There thought it was Ok. I would say Average to good.
July 23, 2021
G R E A T P O P C O R N M O V I E
July 23, 2021
Took my 6 year old boy, who like the last reviewer, loves basketball and cartoons. He hated it, and informed me that, "we get a re-do" for movie night. And "that didn't count". Although I don't think that was even worthy of a straight to DVD release. Maybe a PBS special interrupted by 10 minute pledging breaks.