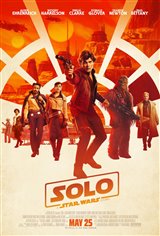 Solo: A Star Wars Story
| 124 Reviews
Write a Review
In Theaters: May 25, 2018
On DVD/Blu-ray: September 25, 2018
4.19/5
Based on 934 votes and 124 reviews.
Please rate between 1 to 5 stars
Showing 1-10 of 124 reviews
January 3, 2019
The biggest problem is that the actor playing Han Solo is not Harrison Ford. But who is, huh? Cool movie with many little details and easter eggs for fans and interesting characters. Maybe it has too many plot twists for children to understand what´s going on. Older kids and adults will appreciate it more.
September 23, 2018
Best Star Wars yet!
September 3, 2018
Wow! Yet another dismal series of explosions, mass killings and 'special effects'. Take away the computer generated effects and you have - not much. Tried to keep track of the number of people and 'things' killed but got bored doing so. Shocked that some parents brought their 3 and 4 year old children to see this mindlessness.
August 21, 2018
Visually great. But story-wise ... how they managed to cram all of Han's achievements & highlights in his life before "A New Hope" in about a week of movie time is preposterous. What else is there for him to show in a movie to make up for the next decade or so he lived? Nothing's left (unless you want to see some smuggling for the Hutt cartel - that's about it). Youth: Well that went down the drain fast - literally. Couldn't even bother having a younger version for a bit. Imperial Academy days: would have been so nice to see. Kessel: Spice mines? What spice mines? No mention here.
August 10, 2018
I hope the make another Solo movie.
August 8, 2018
If you're a fan of Star Wars movies then you will probably like this one. If your not a fan and have not seen the first three with Harrison Ford playing Han Solo then don't go. I liked the movie, but the actor playing Han Solo didn't have the charisma of Harrison Ford. Good to know the backstory of Han Solo after seeing the first three star Wars. All in all, I liked the movie, but I'm a fan.
July 15, 2018
If you never saw a Star Wars movie, this might stand alone. I am glad I paid for Deadpool and walked into Soylo.
July 4, 2018
If this movie had been done with Harrison Ford at a young age it would have been great. The problem with it is that casting does not live up to Harrison Ford's Han Solo. I loved the first Star Wars movie from the time I saw it when it originally was in the theater and even love the newer movies. This one just does not live up to the tradition in the only thing that keeps it from being the worst Star Wars movie is Jar Jar Binks.
July 2, 2018
Don't Listen to na Sayers out there this was a good movie and don't compare it to other Star Wars Series because it was a fresh new take on a character we all Love, I think it was one of my favorite Star wars films, I think in the future people will look back on this movie and like it alot more,,, there was way to much negative PR in the beginning should have been released in fall when there nothing out ,,,would have been a blockbuster when it came out everyone was broke from 3 major film releases,, right after kids spent there money on those movies and graduation gifts everyone is broke in May and June
July 1, 2018
Fun movie! Excellent addition to the franchise and way better than TLJ.