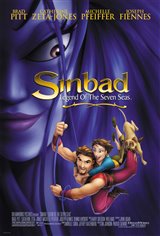 Sinbad: Legend of the Seven Seas
16 Reviews
|
Write a Review
In Theaters: July 2, 2003
2.03/5
Based on 1059 votes and 16 reviews.
18.88%

7.50%

2.18%

0.47%

70.97%
Please rate between 1 to 5 stars
Showing 1-10 of 16 reviews
January 3, 2007
it was really a movie for kids. Te point of it that I truly enjoyed was the mythology part.
April 13, 2005
Awesame!! It was great!!
January 14, 2004
ILOVE: SINBAD: LEGEND OF THE SEVEN SEAS it was fun...
November 24, 2003
it wAS FUN
September 7, 2003
it wwas ggggggggggggggggrrrrrrrrrrrrrrrrrrrrrrrrrrreeeeeeeeeeeeeeeeeaaaaaaaaaaaaaaaaatttttttttttttttttttttttttttt!!!!!!!!!!!!!!!!!!!!!!!!!!!!!!!!! (great!)
August 30, 2003
It was great. I think Disney should get some pointers from this movie. Excellent animation and dynamic character. This is one I`ll add to my collection.
July 26, 2003
Beautiful! The animation and art is so incredible! I love Dreamworks` style! The graphics are amazing and the story is very entertaining! The characters are great, especially the Goddess Eris! She moves like water or smoke. This is an excellent movie! One of my favorites! Very impressive!
July 23, 2003
I adored this movie. I can`t wait to see it again.
July 10, 2003
kind of boring but still something to watch if u love cartoons
July 9, 2003
It was very nice!!!