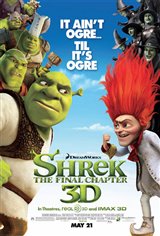 Shrek Forever After
147 Reviews
|
Write a Review
In Theaters: May 21, 2010
4.02/5
Based on 636 votes and 147 reviews.
43.34%

32.82%

11.76%

6.50%

5.57%
Please rate between 1 to 5 stars
Showing 141-147 of 147 reviews
May 22, 2010
I make absurd observations sometimes myself, but I'm still trying to figure out what the heck "Sex & The City" has to do with "Shrek"? Anyways, once again Puss'N'Boots stole the show. A fantastic way to END (hopefully) the series. 4-stars
May 22, 2010
The others were far better than this one, not much in there for the young kids. I was disapointed.
May 22, 2010
Fantatic 10 stars. Wow can't wait to go see it again . Great for all ages!
May 22, 2010
great movie but i expected more people to watch this movie and to start voting more often on this site and i guess this movie didn`t reach high expectations for other people and i don`t care if you people out there hate this movie because its awesome amd it actually had a couple of scenes that were really funny from beginning to end
May 22, 2010
nothing special, how boring despite the 3D effects
May 22, 2010
Can't wait for the blu-ray!
May 22, 2010
If you liked Sex & the City you'll LOVE Shrek The "Final" Chapter!