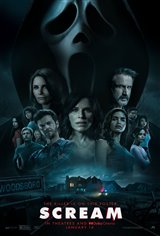 Scream
| 48 Reviews
Write a Review
In Theaters: January 14, 2022
On DVD/Blu-ray: April 5, 2022
3.28/5
Based on 198 votes and 48 reviews.
Please rate between 1 to 5 stars
Showing 1-10 of 48 reviews
April 14, 2022
Waaaaay too stupid.
April 11, 2022
This sucked so hard! This is horror for people who don't know what real horror is. This stinks.
March 26, 2022
Wow, this was so bad! Avoid!
March 25, 2022
The main plot of the movie follows the original so one could actually watch this one after the first. One could skip any or all of the middle movies but any included should be watched in order. That being said, the underlying story/progression of the main characters evolves in each movie so I would say that if you want a little extra 'bang for the buck', and to relate/get to know the main characters/connect with them, watch them all. I also liked that instead of making the villain(s) hard to guess, they made everyone else an obvious choice (thus making the villain(s) hard to guess.
March 13, 2022
The one movie this year that doesn't disappoint.
March 9, 2022
People were terrified and screaming in the aisles. It takes a lot to scare contemporary horror audiences and this is one picture that not only met expectations but also exceeded them.
March 8, 2022
Not scary in the slightest, and just as shallow as any of the previous entries. "Makes you think" ?!? Hahaha! If you're not a thinker at all I suppose this pablum would qualify as an intellectual exercise, but people who actually read books and watch real cinema will recognize this for what it is: garbage.
February 21, 2022
It's that rare horror movie that not only makes you jump in your seat but also makes you think. Highly recommended.
February 14, 2022
Imbecile horror. This is complete garbage.
February 12, 2022
Over done