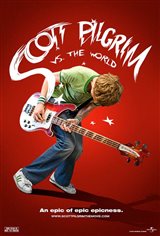 Scott Pilgrim vs. the World
143 Reviews
|
Write a Review
In Theaters: August 13, 2010
3.69/5
Based on 485 votes and 143 reviews.
46.27%

18.04%

12.94%

3.92%

18.82%
Please rate between 1 to 5 stars
Showing 1-10 of 143 reviews
May 7, 2021
One of the best films I've seen, it's visuals are out of this world
November 14, 2016
An epic of epic ness.
February 29, 2012
interesting concept..which worked well...a bit too long, but overall a fun movie.
November 26, 2011
cool movie!!!!!
June 12, 2011
I gave it three stars mostly for originality...it was definitely interesting but not the type of film for us over 50 folks. It was choppy...needed some finesse.
March 1, 2011
This movie suits the teenagers. As an adult, it's an extremely bad movie.
February 21, 2011
i enjoyed this movie alot...loved the graphics & the whole video game aspects they put in the movie. very funny & entertaining
December 23, 2010
Good movie with creative direction and storyline. The characters were great, but the performance by Cera lacked any value. Enjoyable and fun.
November 30, 2010
While a bit dull at times, the movie was very original in its execution and direction. Very good work by the director. The acting was also very good - not so much by Cera, but the supporting roles were great. A good film.
November 26, 2010
Pretty good movie. Michael Cera gives his typical performance. I enjoyed the performances from teh supporting cast, such as Calkin, Pill, Schwartzman. Creative take on a comic-novel. A decent flick.