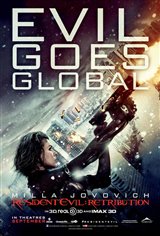 Resident Evil: Retribution
41 Reviews
|
Write a Review
In Theaters: September 14, 2012
3.41/5
Based on 164 votes and 41 reviews.
38.27%

16.05%

16.05%

7.41%

22.22%
Please rate between 1 to 5 stars
Showing 1-10 of 41 reviews
January 5, 2013
Usually like these types of movies, but this was TERRIBLE ! If I could have given it a 'ZERO' I would have... OMG really bad movie!
December 27, 2012
omg... these RE movies get worse and worse. It's an orgy or trying to fit as many characters and enemy types into a non-sensical story as possible...... oh and the movies have been dummed down to 1 hour and 15 mns.
December 26, 2012
Not a good one
December 25, 2012
The worst of the series! A shoot fest nothing more. No plot, bad acting, bad dialogue. Wish I had seen it before I bought it. What a disappointment.
October 3, 2012
They could have made this franchise so much better. From the first film to the most recent. I wish they would have stuck more to the video game story lines. Would of at least made for a better script.
October 1, 2012
I walked out after 20 minutes. Could not stand it. No story just violence
October 1, 2012
Absolutely loved the movie. Running the beginning in reverse was a stroke of genius.
October 1, 2012
Movie was visually nice,I did not care for storyline.It did leave me wanting to see the next movie,Definitely a resident evil fan
October 1, 2012
More of the same.
October 1, 2012
horrible acting, terrible story, did not need to be made at all.