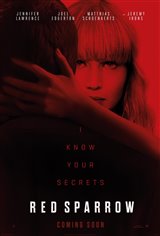 3.47/5
Based on 418 votes and 113 reviews.
Please rate between 1 to 5 stars
Showing 1-10 of 113 reviews
February 22, 2019
This movie was a pathetic excuse for excess nudity more like soft porn than an action movie very dissapointed that this actress felt she needed to "slut" herself up. Waste of time. And in extremely poor taste.
June 29, 2018
Save you Time and skip this one. The story is all over the place with a pathetic attempt at fish tails every 15 min. This movie simply boring with cheesy action sequences that outshined the poor acting. The only thing that could be worst than Red Sparrow, would be a Red Sparrow 2.
June 26, 2018
It was an accurate portrayal of Russian spies and their system of coercion and sex.
May 28, 2018
Was expecting a lot more action. Boring movie.
May 22, 2018
Jennifer Lawrence is tough to watch these days.
May 22, 2018
Have to give this a 2 stars, too much back and forth, plus Poor acting. Not a great story line.
May 20, 2018
A terrific film. So many of the negative reviews here would be laughable if they weren't so pathetic. Yes, there is harsh content but we should never expect or demand that creative expression shy away from the harsher realities of the human condition. Depiction is not necessarily endorsement. Considering that fact the conflict is the foundation of narrative, depiction is rarely endorsement. Make no mistake, this film does have a moral centre. And a strong female protagonist. See this film and make up your own mind. Don't heed the words of the prudes, hysterical feminists and would-be censors would would gladly trade in the freedoms we enjoy for a return to the ignominious era of the Hays code.
May 20, 2018
Pretty good movie, and Jennifer Lawrence flashes her groceries which is a nice bonus!
May 10, 2018
I wonder whether the people giving this a 1 star actually went to see the film. Were they encouraged to post based on the uninformed views of their pastor? They should stick to Disney offerings. While the film has some holes in the plot and the characters were a little over the top, the nudity was hardly a big deal and the violence hardly as bad as many 3rd rate adventure pics.
May 3, 2018
A female Lassiter.