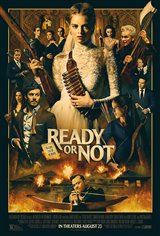 Ready or Not
| 30 Reviews
Write a Review
In Theaters: August 21, 2019
On DVD/Blu-ray: December 3, 2019
3.76/5
Based on 70 votes and 30 reviews.
Please rate between 1 to 5 stars
Showing 1-10 of 30 reviews
December 26, 2019
It was weird. Super creepy nutty and you know it's not real which makes it easy to follow along. Good acting skills. Wow
October 22, 2019
Horrible horrible horrible
October 15, 2019
THIS REVIEW, I JUST HAD TO DO FOR YOU ALL.!!! THE HUMOR WAS THERE, BUT, IT WAS NOT A FUNNY HUMOR, BUT, MORE OF A SICK HUMOR.?? THIS WAS DEFINITELY A, VERY CONFUSING MYSTERY, WITH A LOT OF, BLOOD & MORE BLOOD THROUGHOUT THE MOVIE.!! IT KEEPS YOU GUESSING & GUESSING & ON YOUR TOES, RIGHT UP TO THE END, OF THE STORY. IS IT ALL ABOUT, THE GAME CONTRACT & THE RULES OF THE SUN COMING UP.!!!! ARE THEY JUST CRAZIES, KILLERS, GAME PLAYERS, VAMPIRES, ZOMBIES, SATAN WORSHIPERS, TASTY EATING CANNIBALS OR A SICK, CRAZY, RITUAL FAMILY OR A CRAZY GAME PLAYING, MURDERING FAMILY OF PSYCHO NUTS.???? YOU ALL DECIDE, FOR YOURSELF, OK.????
September 18, 2019
Satan worship, blood, blood, blood. Not much of a entertainment factor. It's a mess!!! Save your money.
September 15, 2019
I didn't like the ending. Overall, it was a great movie.
September 11, 2019
Good little comedic revenge genre movie. Very entertaining and funny to boot. Good acting all around, especially the lead. The end is really worth waiting for. Guaranteed laughs. Kept my attention, wishing it was longer.
September 9, 2019
Really enjoyed this movie !
September 9, 2019
I like the movie thought it was great.
September 8, 2019
Very intense, original and exciting to watch. Pretty funny too. Wouldn't mind watching it the second time!
September 7, 2019
By no means a blockbuster....I really enjoyed it! Entertaining not your typical horror....more like a horror and comedy combined...peaked my interest from start to finish...