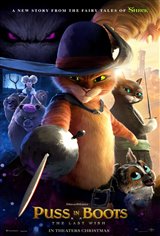 Puss in Boots: The Last Wish
| 19 Reviews
Write a Review
In Theaters: November 26, 2022
On DVD/Blu-ray: February 28, 2023
4.24/5
Based on 84 votes and 19 reviews.
Please rate between 1 to 5 stars
Showing 1-10 of 19 reviews
March 4, 2023
Awesome animation! The villain is excellently well-written and describes the dangers of the wealthy having too much power, greed, and privilege. Also the wolf is hot.
February 22, 2023
I saw the trailer with my kids and noticed the animation style had changed since Shrek. I wasn't sure what the plot was about and I was happy about that. I took my kids to go see it last weekend and I actually laughed out loud a few times. Plenty slap stick for the kids and subtle adult humour which went right over the kids' heads. The plot and many sub-plots were easy to follow and came together at the end. The voice actors were great but the Wolf... He was a smidge on the scary side for my kids. I talked to a grandfather who took his granddaughter to the movie and the granddaughter was scared of the wolf too. I get it though, he was the incarnation of death, but that whistle... that was scary. Luckily no nightmares reported by my kids :) . I would totally watch it again.
February 20, 2023
Fun, funny and very entertaining.
February 19, 2023
It was good
February 18, 2023
The first Puss in Boots (I thought) was flat-out brilliant. The screenplay, the film editing, the voices, characters, plot: all hit the mark of a truly original, beautifully-made animated feature. This time around: it seemed that two screenwriters were at odds on the original script: one writer held firm to the original storyline and the other writer created exaggerated scenarios: that took away from the beauty of the original characters and their wild adventures. Most of the movie is excellent. The horrific characters (to me) took away from the tight, original script. Otherwise, it was a great experience and I would go back again. Gifted actors and crew ensured this was a very sophisticated movie.
February 11, 2023
Funny and fun. Me and my daughter loved this one. Movies are limited these days since all of them are pushing LGBTQ, race stuff.
February 4, 2023
No doubt that this movie was the best animated film of the year and was way better than anything Disney or Pixar put out in 2022.
February 4, 2023
Great movie for everyone. Thought all the characters were well written. The story was executed well, and overall it was fantastic!
February 4, 2023
The animation was beautiful and reminded me of Spiderman into the Spider Verse and has a basic plot which everyone to understand and was executed to perfection. Defiantly one of the best movies of 2022 and I enjoyed more than Avatar way of Water.