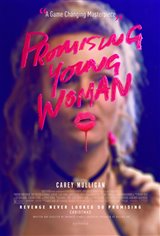 4/5
Based on 18 votes and 8 reviews.
Please rate between 1 to 5 stars
Showing 1-8 of 8 reviews
January 8, 2021
I have correctly picked 5 consecutive Oscars for Best Picture. If this picture was shown late in the cinema year, it would be my choice for Best Picture. This picture will still pull a likely 4-5 Oscars. Best Picture, Best Actress (Carey Mulligan), superb writing, fresh characters, plot, Best Director, editing, soundtrack. In the past 5 years there haven't been a handful of pictures this good or nearly entertaining. Seriously. Too bad this is a Covid year...this film would have been a blockbuster.
January 7, 2021
Carey Mulligan does a fantastic performance, with so many different looks and pretending to be drunk. Message is loud and clear. The ending speaks volumes.
January 4, 2021
Great story but I felt that the movie had a hard time committing to a genre. The mix of black humor / kitsch / and thriller didn't quite work for me as well as I hoped it would.
January 3, 2021
Better than I expected. The message is important and and I am glad this was made. The acting was great with a great ending. I enjoyed this film a lot and made me feel just fine about being single.
January 2, 2021
Acting was very good, reminded me of an Alfred Hitchcock type of movie. gets you thinking and some surprises. Unexpected ending.
January 2, 2021
Great acting, movie was funny at time, and surreal at others. It was at best a B+ movie but I found it was entertaining.
January 2, 2021
5 stars for acting and plot twist!
December 29, 2020
This movie could have been "Based on a true story". It seems so that it could have really happened. Next woman I take home could be this girl!