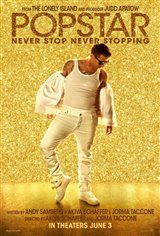 Popstar: Never Stop Never Stopping
10 Reviews
|
Write a Review
On DVD/Blu-ray: September 13, 2016
3.2/5
Based on 22 votes and 10 reviews.
40.00%

20.00%

0.00%

0.00%

40.00%
Please rate between 1 to 5 stars
Showing 1-10 of 10 reviews
August 20, 2018
Wayyyy better than I thought. Take it for what it is. A fun and funny mocumentary . Obviously over the top imitations of the lavish lifestyle and poor diva-like choices the celebrities make. It was hilarious.
July 3, 2016
It was an AMAZING MOVIE!!! Best documentary type comedy since Borat. You'll love it and please support this movie as it isn't selling as many tickets as it should.
July 3, 2016
Now this is what I call comedy gold. By far the funniest movie this year. The songs are clever and the movie doesn't take it self to seriously. A must watch in my opinion.
June 22, 2016
That was the worst idiotic peice of sh*t movie I ever seen the only thing good about it was the music
June 15, 2016
DONT GO!!!
June 4, 2016
Sexier than Magic Mike!!!
June 4, 2016
STU...PID...spend your bucks and if you do I Honestly hope you enjoy it
June 3, 2016
completely ridiculous, laugh out loud funny! Can't take a movie like this too seriously..
June 3, 2016
saw 15 minutes of it...move along folks nothing to see here
May 19, 2016
This looks awesome! Easily my most anticipated film of the summer! I can't wait! Soundtrack will be slammin'!