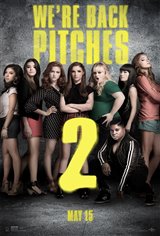 3.6/5
Based on 116 votes and 26 reviews.
Please rate between 1 to 5 stars
Showing 1-10 of 26 reviews
May 13, 2017
I wanted to love it, i really did, i was a huge fan of the original but this one just.. sucked.
September 27, 2015
We had a few good laughs. I loved the singing.
August 16, 2015
The first was great. Campy, unpretentious and suprisingly fun to watch. This sequel was "called in" and pretty much a cash grab.
August 13, 2015
Thin storyline. The 1st one was way better. Seemed like they just wanted to ride the coat tails of the original and cash in. All jokes seemed to be crowbared in. Didn't flow... fail
July 28, 2015
Loved this movie! Even better than the first part! Great singing and entertainment with a cute story.
July 3, 2015
Having recently watched Pitch Perfect 2, I was disappointed with the representation of the only Asian female character (Lilly Onakuramara) in the movie; although she is supposed to be a main character in it, her actions and interactions are problematic to that end: she doesn't say or do anything of substance at all! When she does speak, it is in nonsensical and random whispers, which everyone then ignores whilst shaking their heads.
June 18, 2015
Film had some great moments in it, though there were times I felt distracted when the story dragged a little...
June 18, 2015
Worst movie ever, might be good for teenagers!
June 4, 2015
Waste of time!
June 1, 2015
What a waste of time and money. Somebody must be paying people to write all the glowing reviews because they are B.S. Rating should be minus 5 stars. My wife and I went with another couple and all 4 of us thought it was terrible.