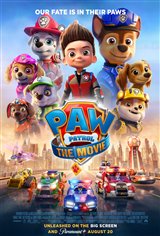 4.84/5
Based on 540 votes and 8 reviews.
94.40%

2.24%

0.00%

0.00%

3.36%
Please rate between 1 to 5 stars
Showing 1-8 of 8 reviews
November 13, 2022
i Love the moive
August 2, 2022
GOOD moive five stars
August 2, 2022
good moive and i will gavie it five srocs
September 6, 2021
I love the movie paw patrol.
August 31, 2021
Love this movie for Kid to learn about Rescue and helping others. Good family film. Very colorful and cute.
August 26, 2021
Palumb. Even mongos deserve better.
August 25, 2021
ADORABLE MOVIE. TEACHES KIDS AND REMINDS ADULTS OF OUR FIRST RESPONDERS AS HEROS. FIRE DEPT. POLICE DEPT. ETC. EDUCATIONAL AND ENTERTAINING. JUST ONE FLAW, ADDED POLITICS WITH A MAYOR OF A LARGE CITY. FUN AND CUTE MOVIE.
August 20, 2021
👎