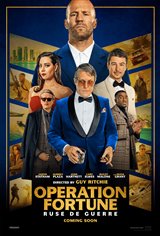 Operation Fortune: Ruse de guerre
| 3 Reviews
Write a Review
In Theaters: March 3, 2023
On DVD/Blu-ray: May 16, 2023
4/5
Based on 8 votes and 3 reviews.
Please rate between 1 to 5 stars
Showing 1-3 of 3 reviews
March 14, 2023
The Gentlemen, RocknRolla, and Lock, Stock, and two Smoking Barrels are my favorite Guy Ritchie movies. I'd rate Operation Fortune: Ruse de guerre right behind The Man From Uncle on the list. Which isn't a bad thing. Jason Statham is always a dependable action star and he doesn't disappoint here. Interestingly, Hugh Grant plays the same character here as he did in The Gentlemen even though it's a different character if that makes any sense. Still, I loved him in The Gentlemen and I loved him here. Aubrey Plaza is an up and comer with an indescribable "It" factor. Operation Fortune:Ruse ge guerre is a fun action movie and I enjoyed it.
March 10, 2023
I thought this a Very Well Done piece of the genre. Good caper, intelligent, even funny at times! Aside from the strange title, the casting, beautiful sets, decent writing, and seeing Aubrey Plaze in a well-deserved, actually SEXXY role was a nice change, and not a stretch at All! Smart & striking, as was her Character, she added some much-needed estrogen & eye-candy and Jason's reliable Baddassery. I thought the acting Was Good, but Jason's security & side-kick, played by...'Bugsy Malone', is it?....was Exceptional!! I just LOVED him, and Even Mr. Grant was fun as a 'Nice' Bad Guy, and that's a Good adj. for a ABOVE AVG. Action flick- I mean, nothing Earth-Shattering here, just a good, Solid and Most IMP: FUN flick for a FUN Night Out! Josh was convincing, as was Cary Elwes, and the accents weren't 'orrible either!
March 5, 2023
Decent, lightweight, likeable action movie. A team of specialists goes after the bad guy, using gadgets and disguises. If you have seen an episode of the Mission: Impossible tv show, you have seen this story before. Pleasant, a good time, nothing exceptional.