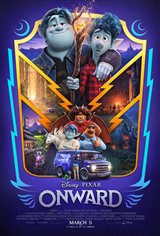 3.84/5
Based on 90 votes and 31 reviews.
Please rate between 1 to 5 stars
Showing 1-10 of 31 reviews
July 12, 2020
Omg who writes / produces this garage? No wonder America elected a nincompoop to lead their country.
July 3, 2020
I see a pizza planet truck in Disney Pixar Onward.
March 13, 2020
It was fun and exciting to watch... I enjoyed it... Thank you!
March 13, 2020
Enjoyed 'Onward' especially in 3-D!! The characters were so fun & the only criticism is that the one that looks like Whoopy Goldberg it should have been her voice!
March 12, 2020
Heartwarming!
March 10, 2020
Sad movie but was a nice story.
March 9, 2020
Great movie. Reminds me of the good old days of playing D&D known as Dungeon and Dragons old school with paper dice and imagination. Do like the quest aspect and the touching story at the end both happy and sad. I think this movie is more for boys than girls as i am sure most boys pretend to be a warrior or a magician at some time in their life. I sure did. Disregards the morons that talk trash they get hang up on one thing and miss the big picture of the movie.
March 8, 2020
Disney bounces back from the hugely disappointing FROZEN II with this thoughtful, entertaining fantasy.
March 8, 2020
You know, I have to admit, while I felt like this film would likely prove the trailers wrong (You know, like 90% of Pixar's library), I wasn't expecting it to be this amazing. The story is brilliant and the characters are great. It really makes it a shame that this film will likely tank and get banned from certain countries all because of a single quote that doesn't even effect the story that much. Seriously, did you guys complaining about this film even pay attention to the rest of it or were you just listening for that one infamous line and then get up and leave the theater as soon as it was mentioned? This reminds me of that South Park episode 'It Hit the Fan' where the citizens of South Park didn't even care about the episode of that cop show but just the fact that they said the word 'sh**' once throughout the entire thing. If one little line from a side character that isn't even in-your-face or anything is seriously enough to ruin an entire movie for you, you shouldn't be watching movies in the first place.