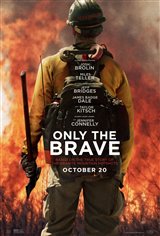 Only the Brave
| 35 Reviews
Write a Review
In Theaters: October 20, 2017
On DVD/Blu-ray: February 6, 2018
4.81/5
Based on 104 votes and 35 reviews.
Please rate between 1 to 5 stars
Showing 1-10 of 35 reviews
January 14, 2018
Excellent movie, the castle the story which I did not know it was based on a true story. Loved it!!
January 4, 2018
Great movie !
November 28, 2017
Excellent acting. Immensely emotional. Growing up in AZ this was my old stomping grounds (even though filmed in NM) but definitely looked similar. I remember talking to my family who still live in AZ when this happened and asking how could this happen, all 19. After seeing this movie I understand a little more the possible answers albeit we'll never know for sure. I've seen the movie 4 times and will definitely purchase it.
November 21, 2017
We liked this movie a lot. Any time you can get a look into a way of life that you'll never be a part of is awesome. The fire scenes were really good and the acting was superb. These people really put their lives on the line and don't get much adulation.
November 15, 2017
Excellent - well done - been there and seen it, the real stuff.
November 10, 2017
Probably one of the best well acted movies I have seen in a long time. The cast is impressive and you feel as though you are one of the crew and go through the triumphs and ultimately tragedy they experience A must see!
November 10, 2017
It has been a while since a movie has really impressed me and this true story really did. With all the forest fires and wild fires effecting us these days, I think this story is being told on film at a great time. I need to say after watching this movie I feel compelled to thank and honour all the men and women who fight fires for a living or as volunteers. This story is about Hot Shotters in particular but anyone who has the courage and strength to battle the blaze ... any blaze has my respect ... they do it for the challenge, the thrill and to feed a self desire to help people and save lives and property and they all need to be recognized for the risks they take to keep us, our property and the beautiful places we live in and love to play in both alive and safe for us all ... these people are heroes ... what this movie made me realize is that it's not just them ... the only people more heroic than those who battle the blaze are their loved ones at home who live with the constant fear that on any alarm or forest fire their hero may not come home the same or at all .... we owe as much or more gratitude to them as we do those men and women they love and support .... so if you know any one who battles fire or their family members give them a hug and a thank you ... and go see this movie that tells the story of people like them who risk it all to walk the line that keeps us and our places and things from becoming fuel .... it's a risky and dangerous life that not just anyone can live .... ONLY THE BRAVE
November 4, 2017
Never knew this true story existed before this week really understand the story now.The firefighters were heros and this is a story I will never forget. The move was excellent
November 4, 2017
Great story well acted movie
November 2, 2017
Highly recommend this movie, base on a real true story, Jennifer connelly is still lovely.