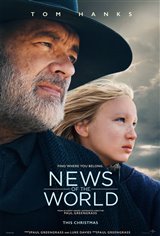 News of the World
| 17 Reviews
Write a Review
In Theaters: December 25, 2020
On DVD/Blu-ray: March 23, 2021
PG-13 | Drama | 1h 58m
3.86/5
Based on 56 votes and 17 reviews.
Please rate between 1 to 5 stars
Showing 1-10 of 17 reviews
March 18, 2021
Riveting movie, best movie of 2020 in my opinion. The setting, the characters, the story were all so captivating. Tom Hanks delivers another amazing performance and the little girl is also very good.
February 19, 2021
Slow, predictable movie plot. Expected more from a Tom Hanks movie. Wait for it to hit your streaming service. Husband and I thought it a waste of a rare evening out.
February 17, 2021
if your looking for a good nap, just start this movie... !
February 10, 2021
Hanks doing Hanks, what else is new. Many holes and plotline sillyness. And of course the indians are mostly noble, put upon wonderful people. The only good thing was the little girl, and even there the director made her act out of character many times. If you think this was the west, you obviously have no education or ever read a real book.
February 2, 2021
Slow, boring, no real character development.
January 23, 2021
Great great movie. You won't be disappointed. And as my says, "Tom Hanks is getting better with age." Beginning was not slow, instead, great character development sequences leading to newest western genre classic.
January 21, 2021
Yes I will admit it was a little slow & boring in the beginning but once it moved along it was a real heart tugger!! Loved that it ended the way it did with each character learning to help each other. In the last scenes you felt that each character learned they needed one another and the love was real!! Thank God for movie rentals. Until we can go to the Cineplex and be amongst people again it has been ideal!!
January 4, 2021
Slow film, but watch it for Tom Hanks
January 3, 2021
Liked the part of learning to love someone, whose broken on both sides. Tom Hanks the lost of his wife and Co-star Johanna the lost of two families.