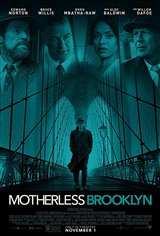 Motherless Brooklyn
| 28 Reviews
Write a Review
In Theaters: November 1, 2019
On DVD/Blu-ray: January 28, 2020
R | Drama | 2h 24m
3.7/5
Based on 62 votes and 28 reviews.
Please rate between 1 to 5 stars
Showing 1-10 of 28 reviews
August 23, 2020
The movie was very slow and boring. I like the cast of the movie.
November 24, 2019
This was well done old style detective film. Love the style and the actors did a great job. I felt I was there. this is Based on real historical happening in the city of new York.. Corruption has always been a part of new York... It is a long story but it builds to a great ending. Would see it again.
November 14, 2019
Great movie
November 14, 2019
I would give it 4 stars, but in today's dearth of good movies, I offer it 5 as a relative score for movies in recent times. Norton writes the screen play, and not a bad outcome. He is always on target as an actor. And in fact, that is why I went to the movie. Yea, does it drag? For a young audience in the era of attention deficit disorder... perhaps, but for those of use that are accustomed to complex themes, and convoluted plot twist that challenge the wit, it is just right. I have no regrets, and would even see it again, if the popcorn is good.
November 13, 2019
Slow, long, and boring. Worse movie I had the displeasure of watching in a long time. Very disappointing.
November 11, 2019
Ed Norton should have directed Ed Norton better. REALLY SLOW!
November 11, 2019
Liked unwinding of mystery. Acting was brilliant. Must see!
November 10, 2019
Edward Norton was excellent. Enjoyed the storyline but found the movie slow moving at times and difficult to follow. Ending good and left some questions unanswered.
November 9, 2019
Ed Norton was fantastic in his character.
November 8, 2019
Found this to be a cheap shot at President Trump from Norton and Baldwin. Such egotistical jerks. It was long and slow and would never tell anyone to see it.