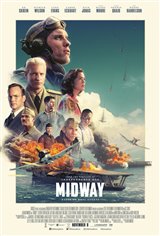 Midway
| 91 Reviews
Write a Review
In Theaters: November 8, 2019
On DVD/Blu-ray: February 18, 2020
4.2/5
Based on 274 votes and 91 reviews.
Please rate between 1 to 5 stars
Showing 1-10 of 91 reviews
July 16, 2020
they somehow made a war movie with killing pg for kids, total disrespect for real war heroes.
February 22, 2020
Very factual version of Midway. All young people should see this.
February 20, 2020
Probably the worst war movie I have ever seen and I love war movies! Scenes skip all over the place, hokey dialogue, and terrible acting. Really, Patrick Wilson and Woody Harrelson as war heroes? Casting was terrible, because there was no plot. What a waste.
February 10, 2020
it's been done before , let it go
February 9, 2020
I loved everything about the movie. The cast, script, directing, and special affects were superb. A great war movie experience.
February 3, 2020
This version of the Battle of Midway is all military with none of the traditional Hollywood drama. As good as the 1976 version was in portraying each side even-handedly, it used a great deal of stock footage from other movies, some of which showed planes and ships just not in the battle. With CGI this Midway doesn't need that. It recreates things authentically and presents the stories of real Navy men (sorry, ladies! no romance) without fictional characters to build audience sympathy around. One of THE BEST WW II movies ever made!
January 22, 2020
action packed great actors realistic effects will be a classic ww2 movie
January 7, 2020
It was a great movie. I enjoy watching history . This was a story of what really happened .When the Japanese attacks Pear Harbor. Our military are the greatest.
January 4, 2020
So real. Not Hollywood made up. Real stories of the people that were there. Marvelous film.
January 3, 2020
EVERYTHING