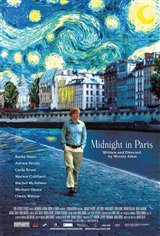 Midnight in Paris
131 Reviews
|
Write a Review
In Theaters: May 20, 2011
4.01/5
Based on 414 votes and 131 reviews.
32.04%

45.15%

16.02%

5.83%

0.97%
Please rate between 1 to 5 stars
Showing 1-10 of 131 reviews
January 23, 2012
very unique and lovely movie. highly enjoyable comedy about life and the times we live in, and wished we lived in.
January 20, 2012
excellent !
January 15, 2012
Excellent
January 9, 2012
A wonderful film. You actually feel that you are in the 1920s in Paris. Allen's accuracy in the historical characters is impecable. And his ability at creating the historical characters as how we all imagine they were in their time is exceptional. I watched 3x to grasp the complexity of his research and knowledge of the era.
January 3, 2012
I absolutely loved this movie! I was actually was upset when it was over cause I just could've kept watching. I'm not usually a fan of Woody Allen films so I wasn't so excited to go see it, but i'm super happy that I did. Also, Owen Wilson is surprisingly charming in it. Overall this movie is just silly, and entertaining, and charming, and funny, and I definitely recommend it!
December 26, 2011
I liked this movie...it's worth the watch for sure.
December 22, 2011
Cute and funny
December 16, 2011
I did not like this movie, but it did make me want to go to Paris
December 14, 2011
unconvincing acting by owen wilson
December 14, 2011
VERY INTERESTING PREMISE, THOUGH THE MODE THAT THEY USED TO GET FROM ONE ERA TO ANOTHER (a carriage)seemed quite lame, even for a time travel story. THE STORY KEPT MY INTEREST THOUGH AND REALLY DID MAKE YOU WONDER WHAT IT WOULD HAVE BEEN LIKE TO HAVE LIVED IN THE DIFFERENT ERAS.