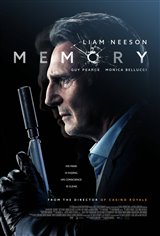 Memory
| 11 Reviews
Write a Review
In Theaters: April 29, 2022
On DVD/Blu-ray: July 5, 2022
3.58/5
Based on 24 votes and 11 reviews.
Please rate between 1 to 5 stars
Showing 1-10 of 11 reviews
May 16, 2022
This was a fantastic movie! Liam did some of his best acting in capturing the angst of a strong man losing his edge. You could also understand the psychology of why this particular case touched him. Great, poignant theme.
May 13, 2022
FROM BEGENING TO END , IT KEPT ME FROM GOING TO SNACK BAR. EVEN FOR JUST A DRINK. LOVE THE ACTING ALL AROUND. I WILL SEE IT AGAIN AND BRING FRIENDS AND FAMILY.
May 11, 2022
Liam never disappoints, looks great, believable, and hope to c more movies w him / this character. The plot itself was hard to put together, till closer to the end.
May 4, 2022
Intense! Lot of action Great acting as always Liam Is a killer hero for trafficking of children. For those with a strong stomach.
May 4, 2022
We did not expect a first-rate Sicario movie-caliber storyline and movie production: like Memory. We are recommending it as an excellent movie: as a date movie with a fine screenplay: with Monica Bellucci, Guy Pearce, and a solid cast of character actors and actresses. We got on the phone and called relatives and friends: You've got to see this movie: it rocks. Plus: Liam Neeson pulls off a complex contract hitman character with acute memory loss: that works within a sophisticated script and heightens the tension line: right to the end of the movie.
May 4, 2022
the action and the shootings
May 1, 2022
A lot of action not boring at all
May 1, 2022
I thought , hey this sounds like it will be good . I thought wrong . Very crappy acting right across the entire line up . Liam Neesons name will get you in the door but you will leave feeling cheated .
April 30, 2022
What does Alzheimer's have to do with anything in this movie? Just dumb. No character development, plot very hard to follow , just dumb. I was very disappointed. Hard to tel who is who. Who are the bad guys? Just dumb.
April 30, 2022
This has been done so many times before - and squeezing the last penny out of someone else's effort is disgusting.