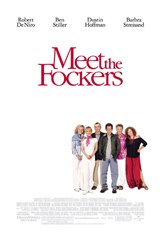 3.93/5
Based on 5550 votes and 219 reviews.
Please rate between 1 to 5 stars
Showing 1-10 of 219 reviews
February 23, 2006
meet the fockers is so funny i like this movie
January 16, 2006
I thought that this movie was kinda funny but in some parts were very disturbing but overall it was a good and funny movie!!! ;) ;) ;) ;)
January 10, 2006
HORRIBE! not even 5 minutes went by when i got up and got my money back! i saw a different movie. at least it kept my eyes on the screen!!!! GOD!
August 29, 2005
A movie that sadly proves Robert de Niro`s acting days are over I never was a Hoffman fan, always playing some mumbling small man part ... The only good acting in whole movie seemed to be Moses the small dog,and the cat .. It was a poor excuse for potty humour, to the excess in fact .. Streisand was never an actress ever, and her singing was a matter of personal taste. Hoffman and Streisand are both obnoxious individuals to work with in real life ... In finality, I was surprised an A class actor such as de niro would even consider a low movie such as this, he must have been paid well,
July 12, 2005
Your movie was very funny
June 27, 2005
this movie was incredibule
May 16, 2005
WE ENJOYED THE FILM AS MUCH AS THE FIRST ONE BUT THOUGHT IT NOT AS FUNNY .....
May 15, 2005
hularious..just as good as the 1st
May 4, 2005
funny as hell
April 28, 2005
loved the fockers! They are Hilarious! I never even seen Meet The Parents and loved Meet The Fockers! It is the funniest movie of the year! Trust me, no matter who you are and from you are from you will laugh your a$$ off at this film. It is such a masterful comedic perferomance by Dustin Hoffman, Barbara S. and Robert DeNiro and the baby that it defies explanation. Just see it, it is so funny, best comedy of the season. Like I said I never saw the first movie and yet, this one is soooo funny. If you see one good comedy this year, it should be this movie, I watched it twice which is rare!