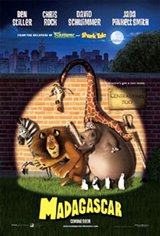 3.84/5
Based on 6141 votes and 253 reviews.
Please rate between 1 to 5 stars
Showing 1-10 of 253 reviews
January 22, 2011
absolutely brilliant, love the scripting, acting,music and a must see fun movie for all - kids and all.
January 29, 2009
this movie is soooo funny! i love it especially king julian!!!! his the best! my daughter loves when he sings move it.
September 16, 2006
i hope the # 2 is better and more funny. this movie was the best of all time. King Julien is so cool. and the panguins rock.
September 12, 2006
madagascar is the best movie in the universe. I especially loved the littly apriaciated Monkeys. I mean why dont they get the attention they deserve.... who would be more suited to saY... "iF YOU GOT POOP NOW`S THE TIME TO THROW IT" lol it cracks me up every time. this movie is really enjoyable, it deserves 123456789000 stars*. i mean really not just because i like to move it move it, but it really sent out a good messege to the younger children, that if our friends but is in your mouth dont say your not bitting it!!!!
August 21, 2006
madagascar is funny packed with comedy.Its made by my favorite movie company"DREAMWORKS".The problem was good.plus the movie was so randommmmmmmmmm!!!!!!
August 2, 2006
i thought this was a good family movie
July 4, 2006
MADAGASCAR is probably the best mosie ever
June 24, 2006
madagascar was brill, ali g, who plays king julien is fantastic, i like to move it move it!
June 9, 2006
Madagascar was boring. I found only a single line, partially funny.Still, I have to say, that one line was hilarious. I would have laughed if the characters had not destroyed their reputation with crude humor, such as when one of the animals smacked the giraffe in between the legs. I probably would have enjoyed it more if the producers had not put the greater humor in the commercials. Such as the lion with clap activated lamp. (That was rather funny) I would not recomend buying this movie unless you`ve seen it and have a better report than me. If you are a huge fan of this movie, than I mean no offense. But I have two more good things to say
May 26, 2006
Story line is not enoth, but full of laughs