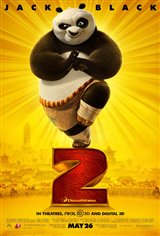 Kung Fu Panda 2
106 Reviews
|
Write a Review
In Theaters: May 26, 2011
3.95/5
Based on 396 votes and 106 reviews.
40.54%

35.68%

9.73%

5.95%

8.11%
Please rate between 1 to 5 stars
Showing 11-20 of 106 reviews
October 25, 2011
I thought the movie was great. The revelation about PO and how he came to be was inspiring. The ending left me wanting to see the sequel immediately.
October 24, 2011
great family movie. kept the attention of myself and my son. very touching story, can't wait for the next one.
October 24, 2011
it is a funny movie that has a clumsy panda turning into a hero to protect people from evil
October 24, 2011
if there was a no star rating i would have rated it that ....nuff said
October 24, 2011
really funny movie even as an adult I love these types of movies, so much and good effects!
October 23, 2011
It wasn't as good as the first (naturally), but it definitely filled my need for some adorable antics. Jack Black is silly as always, and the plot was juuuust good enough to hold it all together. Predictable, but cute.
October 23, 2011
definitely a great movie, it was impressive to see all of the original actors in this one as well. I like that they left it open for a 3rd ...
October 23, 2011
Sequels are usually not as good as the first one, but this one in my opinion is just as good. Full of action, great animation and great comedy. Kids of all ages will like this one.
October 23, 2011
Loved these movies!
October 22, 2011
I really enjoyed this one as much as the first. Sometimes it turns out that the sequel of a movie is not as good........but not in this case.