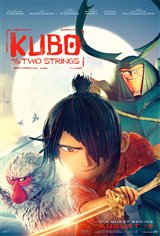 Kubo and the Two Strings
| 11 Reviews
Write a Review
In Theaters: August 19, 2016
On DVD/Blu-ray: November 22, 2016
4.39/5
Based on 38 votes and 11 reviews.
Please rate between 1 to 5 stars
Showing 1-10 of 11 reviews
October 21, 2016
An enchanting tale from Japanese mythology. Superior animation paired with an A-list cast of voice actors.
September 23, 2016
The movie was realistic and adventurous.
September 5, 2016
I took my 4 year old and my 8 year old nephews to see it. It was an original mesmerizing beautiful story. While there are topics and situations that may have been too sophisticated for the 4 year old, he seemed to be captivated by the visuals and engaging characters. I heartily recommend this movie for ALL ages.
September 3, 2016
We found this movie to be very frightening for children - skeletons, ghosts, witches, serpents...My 8 yr old, as well as my 11 yr old, both had nightmares that night.
August 26, 2016
If you haven't seen this movie yet, you must go and see it. Story-telling at its best. It has all the ingredients-storyline, humour, life axioms, profound messages about spirituality and the human condition, fun and music that is well-orchestrated. It will be well worth your while, young and old alike. Keeps your attention riveted. Very well made.
August 26, 2016
What an awesome movie. Great action, great story line, interspersed with humour that makes you laugh heartedly and underlined with deep meaningful comments on life and what it is to be human and also about spirituality-Spirit after death. Background music to keep you on your toes and I absolutely loved the George Harrison song at the end. A must-see movie for children and adults. Thought-provoking. Loved it. A jewel.
August 26, 2016
Wonderful, engaging storyline. Great characters challenged at every turn. Humor, suspense, wonder and a touch of tender sorrow all combine to hold the audience rapt throughout. Good message at conclusion. Beautiful animation.
August 26, 2016
Wonderful, imagination, and familial narrative. Entertaining, amusing, and symbolic of love and sacrifice.
August 21, 2016
A very touching story. It was imaginative, clever, entertaining and the visuals were wonderful. I saw it with my husband and teenage son and we all loved it. We laughed and at the end I cried. I loved that it was a different animation company and Japanese. I would recommend seeing it in 3D.
August 21, 2016
Love the movie. Wonderful story. Touching. Good humorous parts. The best part of this movie. The movie was without the Disney touch. Something fresh. Japanese style movies are the best. Watched on my birthday. :)