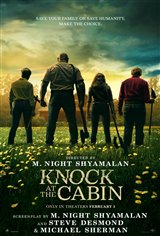 Knock at the Cabin
33 Reviews
|
Write a Review
In Theaters: February 3, 2023
On DVD/Blu-ray: May 9, 2023
2.73/5
Based on 98 votes and 33 reviews.
26.53%

12.24%

8.16%

14.29%

38.78%
Please rate between 1 to 5 stars
Showing 1-10 of 33 reviews
March 4, 2023
Won't watch ever again. Poor plot and script. Acting was ok. Sad movies are being made to fit Netflix and not vice versa.
March 3, 2023
I usually like M. Night movies, but this one wasn't very good.
February 26, 2023
Hollywood isn't going to have enough money to make movies if they keep pumping out this reused drivel and substituting gay characters. I say keep it up!
February 25, 2023
Typical lame Shyamalan twist ending. I go to see this, it plays out and then there's end credits. It was a movie the whole time! What a ripoff!
February 21, 2023
Bad real bad
February 16, 2023
To me, If I am watching a movie and I am so engaged in every word that I can't take my eyes off the screen, That is a win. That was not the ending I expected so to my, that was the twist end that I did not expect. I knew the directors style and that is what I got. Great Movie!!!!
February 13, 2023
Very thought provoking movie....it brought ought interesting ideas. A very good cast that deserves more attention
February 12, 2023
I want money back
February 11, 2023
It wasn't the worst movie I ever saw. Very slow moving. Anti-climactic. At least my popcorn was good.
February 11, 2023
My husband and I enjoyed this movie. We were surprised how well Batista acted.