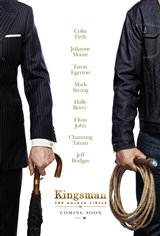 Kingsman: The Golden Circle
| 92 Reviews
Write a Review
In Theaters: September 22, 2017
On DVD/Blu-ray: December 12, 2017
3.25/5
Based on 230 votes and 92 reviews.
Please rate between 1 to 5 stars
Showing 1-10 of 92 reviews
May 6, 2018
Even more stupid than the first one.
January 2, 2018
Holy cheese (mozzarella) Batman! Pretty hollow movie. Action scenes, although extremely far fetched were the only things worth of attention. And why so many F-bombs?? Pfffff
December 27, 2017
Truly crazy. Great film, filled with lots of action. Doesn't focus enough on story but still worth a watch!
December 14, 2017
Rated it 3 stars only because 2.5 stars option not available. The car chase at the beginning was totally far fetched and unrealistic. So were most of the fight scenes . An overweight, 70 year old Elton John doing moves that would make Jackie Chan proud was ridiculous at best. Far too much and unnecessary use of the F- bomb. I thought that a Kingsman was supposed to be a gentleman. Should have been titled Crudeman . The meat grinder scenes were gruesome. While there was plenty of action and some good laughs as well as an interesting plot, overall a farce compared to the first one. Even Johnny English was better .
December 12, 2017
I loved the first movie and hoped this one would be as charming and clever but it didn't follow through. While this one looked great I felt it actually had too much action. Wasn't a fan of the plot and Halle Berry might be the worst actor of all time. I hope they make a third and redeem themselves :)
November 26, 2017
Too unbelievable. Too violent and too hard to follow. Very disappointing
November 21, 2017
This movie was fantastically amazing. Was worth seeing twice. I would watch again and I will when it comes out on iTunes. Was just as good as the first if not just a bit better. You should see this over justice losers
November 13, 2017
AMAZING
November 10, 2017
TWO THUMBS UP !!!