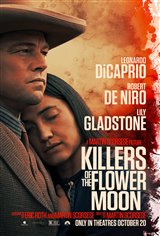 Killers of the Flower Moon
3.8/5
Based on 140 votes and 50 reviews.
Please rate between 1 to 5 stars
Showing 1-10 of 50 reviews
November 20, 2023
Far too long and incoherent.
November 19, 2023
Not one of scorsece 's best. Choppy, a bit forced
November 17, 2023
Love the cast which is why we went. Story line dragged and seemed like it was intentionally long to make a statement perhaps?.. Because was sooo not necessary. Not enough happening in the movie to justify the length. This one was a dud for us.
November 17, 2023
Plodding, and way too long. It's another Hobbit trilogy for a paperback story.
November 16, 2023
They could have shortened this movie by at least an hour. It dragged on and on
November 15, 2023
The movie is a heartwrenching and disgusting tale of how white people (shocker) manipulated indigenous peoples for their riches. It's a tale as old as time, but people seem to still deny the harm that has been wrought throughout history. I venture to say that these anti-DeNiros and this "complete distortionist" are just modern-day racists. And yes, I am white, and completely ashamed and appalled by this history.
November 13, 2023
Some people say it is hard to follow and boring. Attention spans aren't what they once we're.
November 12, 2023
Hard to follow
November 12, 2023
Shocking true story that exposes the greed and racial injustice that led to the murders of over two dozen members of the Osage Indian Nation. Almost three and a half hours long, but it held my attention throughout. My only complaint is that some of the dialogue was hard to decipher, but the acting was superb. I predict a best picture nomination.
November 7, 2023
True experiences, historical facts.