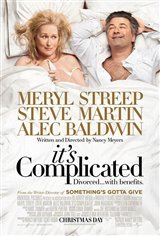 4.11/5
Based on 286 votes and 93 reviews.
Please rate between 1 to 5 stars
Showing 1-10 of 93 reviews
January 16, 2011
It is the most fun movie I've watched in a long time. Great script, actors, with a steady surprise around every corner. Totally awesome! My husband and I have watched it several times and cannot get enough. Way to go!
November 17, 2010
Loved it! One of the best comedies I have seen in years. It's full of witty one liners and a few good ole belly laughs. Definitely worth seeing!
July 8, 2010
So I technically didnt see the last 15 minutes of this but I figure my review is still fair. I didnt find any of the three leads particularly funny. The only one who I actually found hilarious was John Krasinski. Besides him the movie was rather boring and just...not that entertaining. What did this movie teach me? Some actors should not do comedy.
July 6, 2010
LOVED this movie! Absolutely hilarious with an incredible cast!
May 30, 2010
Hilarious, and I'm 28.
April 24, 2010
Can't wait for this to be on DVD - such a great movie - fun for all
April 12, 2010
This was an Okay Movie .. I mean like it was funny in someways but nasty in another but other then that it was funny :P :) !
March 23, 2010
Laughed many times. Mature comedy, but strays into the whiny poor-me feminist area briefly. Makes me glad to be an older woman for a change when I see Meryl look so appealing.
March 18, 2010
Fantastically hilarious, definitely worth the money to go see! I highly recommend it.
February 21, 2010
It was good honest humour that many individuals can relate to with a good ending that throws an upset into the picture