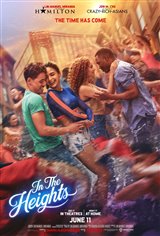 In the Heights
| 29 Reviews
Write a Review
In Theaters: June 11, 2021
On DVD/Blu-ray: August 31, 2021
4.55/5
Based on 58 votes and 29 reviews.
Please rate between 1 to 5 stars
Showing 1-10 of 29 reviews
July 25, 2021
Paid $25 to watch this on Shaw on Demand on the day this film opened. Today $4.25 in the cheap theatre - what a difference! Run don't walk to see it in the theatre as it's totally worth the extra effort. Abuela Claudia (Olga Merediz) stole the show with "Paciencia y Fe" followed closely by Sonny's cameo in "96,000." What a wonderful musical!
July 5, 2021
This is the third time I've seen this! Saw the play, I think in LA? Not sure? This is so much better than the play and I love plays! If someone asks me I'd go again! See something different at all times! So uplifting! You walk out feel'in good!
July 4, 2021
Lin-Manuel Miranda hits it out of the park!
July 3, 2021
If you want to feel happy go see this! I was moderately interested in this movie initially. I was so surprised at how good it was. Go see it you feel motivated to dream and do!
July 2, 2021
An upbeat movie with a large heart. What we need now.
July 1, 2021
A visual feast. An exuberant cast that just doesn't quit. Shortest 2 hours 23 minutes I've ever experienced. See it on the biggest screen you can.
June 30, 2021
The best singing, dancing, choreography and story telling going to touch your spirit and lift you up. Give Thanks, don't miss this great piece of entertainment. On Broadway it would cost over $100 a ticket for just a matinee.
June 29, 2021
THANK YOU LIN MANUEL MIRANDA AND ALL WHO WORK SO HARD TO GIVE US THIS MASTERPIECE OF A FILM. A MUST SEE FOR SURE!
June 29, 2021
I absolutely LOVED this movie! Going again to enjoy it on the big screen!!
June 28, 2021
I went to see this movie on Saturday and did not know what to expect. What I got for my money, the best singing, dancing and acting that I've seen since Rent. The Heights is Washington Heights in uptown Manhattan. I was actually there when my bus (number 4) was taking us to the Cloisters. DO NOT MISS THIS ONE!