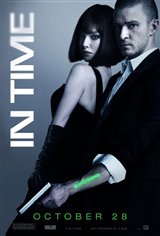 In Time
111 Reviews
|
Write a Review
In Theaters: October 28, 2011
3.84/5
Based on 324 votes and 111 reviews.
27.81%

44.37%

15.89%

7.95%

3.97%
Please rate between 1 to 5 stars
Showing 1-10 of 111 reviews
March 30, 2014
Zuleyka Silver hot and sexy !!!!!!!!!!!!!!!!!!!!
March 14, 2012
i gave this a 2 only because of the story, it had potential but lost it with the terrible casting and their horrible attempt to fabricate the future on a budget. i cant believe most peoples ratings for this but it does explain how hollywood can get away with recycled material over and over again. you people should be ashamed of your selves, ashamed! thats how i felt and i watched this alone.
January 6, 2012
great movie, creative plot that keeps you guessing and watching
January 6, 2012
I liked this movie makes you wonder if this is what we're headed for
January 4, 2012
Easy story and predictable ending. An ok watch.
January 3, 2012
No one is ever IN TIME in the movie...Life is just some dice that rolls and rolls.
December 30, 2011
The story was too easy to predict what was going to happen and my friend hated the movie because of that. But I actually really liked it. If it doesn`t bother you, you should check it out!
December 27, 2011
Good film, lots of action and intrigue around a very interesting plot device. Of course there were a couple of "your kidding me, right" moments, like when they rolled the Jag down the embankment...
December 26, 2011
JT does a surprisingly good job
December 25, 2011
A contrived plot but oddly entertaining. Seyfried and Timberlake have great chemistry.