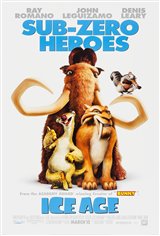 3.91/5
Based on 2370 votes and 155 reviews.
Please rate between 1 to 5 stars
Showing 1-10 of 155 reviews
December 17, 2019
good movie but not as good as collision course .
January 15, 2016
Ice Age is the pillar of modern animated pictures. "Born" as an idea even before 2002, when it was premiered, Ice Age takes a rather new and bold concept at what makes up a good animated movie. It was even nominated for an Oscar, so yeah... fancy that. Anyhow, came here to say that Goran Visnjic really rocked his supporting actor role, and I love the link between him and Denis Leary. It so melodramatic.
November 25, 2015
Ice Age is the greatest animated film of all times. It features a decent animation (well it was great back in the old days), one of the most heart-warming stories, rivalry, funny characters, downs, ups and whatever not. Of course I am talking about the main story in which the prehistoric animals must move out to survive the Ice Age, and of course I am talking about the fight, (Goran Visnjic was acting really convincing), of course I am talking about Scrat, and of course I am talking about Sid.
July 30, 2007
My 3 kids Christopher, Destiny, and Jacquline love the movie and they watch Ice Age all of the time.
June 18, 2006
was a great movie cannt wait for ice age 2 meltdown to come out on dvd
May 21, 2006
Its very well done
January 3, 2006
i thought it was funny when Sid the Sloth did what he did during the movie
January 10, 2005
i like scratch , he`s wonderfully funny !!!!
October 5, 2004
a movie i watch over and over with my 8 kids. Just great!
August 13, 2004
this movie is FANTASTIC!!!!!!!! The squirrl parts were so FUNNY!!!!!! MUST SEE