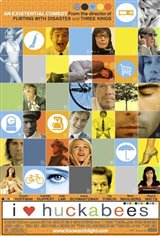 4.21/5
Based on 829 votes and 32 reviews.
Please rate between 1 to 5 stars
Showing 1-10 of 32 reviews
October 27, 2012
Tedious and self-important
July 8, 2006
This is a "love" or "Hate" movie. My boyfriend and I laughed the entire way through. We showed my parents, and they didn`t find it the slightest bit funny. If your looking for humor thats very obbvious, this isn`t.
June 9, 2005
I think this film is funny and makes you think
March 12, 2005
Sophomoric. David O. Russell draws heavily from self-help books, and that PHIL 100 class he took in the 80`s.
March 5, 2005
What a waste of time, I`m only relieved that I spent 2.25 on a rental as opposed to spending 12.00 a ticket to see this thing on the big screen.
March 4, 2005
I really liked Garden State and Eternal Sunshine, but thought Huckabees was a disaster. I get the meaning of the film, but just thought it was poorly done. And just plain wierd for wierd sake. It deserves the bad reviews.
February 21, 2005
I do not recall when I have seen such a wretched film.
January 15, 2005
The most continually chuckle resulting film of the year. I loved the spoof of our most pretentious selves. Brilliantly conceived. And, after reading many viewers who could not relate to the film, I suspect it is because they are not already steeping in the culture about which the film is poking fun.
January 3, 2005
An absolute classic, funnier the second time round, superb acting of a remarkably original witty script! One of those films that reminds you why you love the movies! ...... superlative superlative superlative.... you get the idea!
January 1, 2005
a really funny movie i liked it alot. i mean com`on any movie with JUDE LAW in it is gonna be good!!