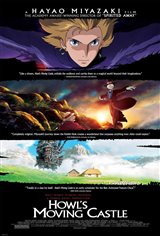 Howl's Moving Castle (Dubbed)
4.43/5
Based on 1156 votes and 43 reviews.
Please rate between 1 to 5 stars
Showing 31-40 of 43 reviews
July 13, 2005
Best miyazaki film by far. Captivating story...totally sucked me right in. So emotional and fantastic. Will watch again...and again. Joe Hisaishi`s music absolutely MELTS THE SOUL. Must thank these masterful duos - animated oscar for SURE.
July 12, 2005
Howl`s castle is yet another masterpiece by Miyazaki. The animation is jaw-droppingly beautiful! I was thoroughly delighted and will go back to see it on big-screen again! The style is a cross between Spirited Away and Kiki. My two favourites.
July 12, 2005
I loved it so much! It`s the best animated movie, make that the best movie I`ve seen in awhile!
June 28, 2005
I LOVED IT! I WOULD WATCH IT OVER AND OVER AND OVER!
June 25, 2005
One of the best movies I have ever seen, anime or not! It completely sucked me in with it`s incredible plot, and all the characters were deep and exceptionally likeable. Complete with humour, magic and a sweet love story, i recommend this movie to anyone!
June 22, 2005
Miyazaki`s Howl`s Moving Castle was AMAZING! one of the best, its a must buy when it comes out on DVD. Its a movie a personally think everyone will love, the characters were great, the music was splendid, and it`s a must watch movie!
June 18, 2005
I think this is one of Miyazaki`s greats. As Ebert stated, it had a little less story, and alot more spectacle. I loved it.
June 18, 2005
i loved it; great story line and wonderful music. i`ll definitely buy the dvd when it comes out.
June 17, 2005
Amazing and enchanting anime. The storyline is a little confusing due to the time constraint, but it is a great movie overall!
June 12, 2005
pretty good