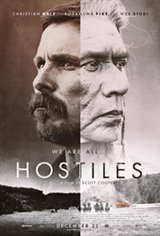 Hostiles
| 58 Reviews
Write a Review
In Theaters: December 22, 2017
On DVD/Blu-ray: April 24, 2018
3.52/5
Based on 192 votes and 58 reviews.
Please rate between 1 to 5 stars
Showing 1-10 of 58 reviews
May 29, 2018
Scenery was amazing - good story line - slow movie (long drawn out)
May 17, 2018
decent movie bit slow but worth the watch
May 6, 2018
A really good movie. Fantastic scenery, very good acting, story was very good. Not a sunshine western of imaginary heroes. No John Wayne here. Just a very good movie.
May 2, 2018
very long and drawn out
April 29, 2018
Shallow storyline pushing racial acceptancr ruined this film. Could have been so much more.
April 24, 2018
This movie gives new meaning to the term " dramatic pause". I wonder what the actors are thinking during these long boring pauses. " Has my career really got this bad that I am in a film like this " perhaps?
February 22, 2018
Loved it. Made me stop and think about how we all can be cruel and we all can be victimized.
February 18, 2018
Hostiles is an excellent and poignant portrayal of how mortal enemies come together, set aside their indifferences and accept one another, not for what they have done, but for what they are and never reflect on the past. It's a shame this generation can't understand this, It could happen again, only under more devastating circumstances
February 14, 2018
The film set in 1892 ignored the Wounded Knee Massacre of 1890 but did take into account the great change of occurring during the end of the 19th century-for both the tribes and the Americans. Overall, the film was good depicting the difficulty of change for the populations involved.