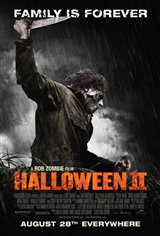 2.62/5
Based on 338 votes and 81 reviews.
Please rate between 1 to 5 stars
Showing 1-10 of 81 reviews
June 15, 2018
Appallingly bad. I didn't think Rob Zombie could make a worse film than his remake of Halloween, but he somehow burrowed further down into the muck with a worse sequel. I would call it one of the worst films ever made by one of the worst filmmakers ever, but calling Rob Zombie a filmmaker is too kind and downright false. Stick to music, you hack.
December 29, 2016
Frank Zito is Harry Worden is this lame sequel to THE PROWLER.
December 28, 2016
Jigsaw is back in a lame sequel to Re-Animator
December 4, 2016
Somehow Zombie has made an even worse film than its predecessor. Cinematic compost. Rob Zombie is without a doubt the worst maker of horror films ever.
October 24, 2016
Pure garbage.
February 17, 2010
I finally saw HALLOWEEN II 2009 it was a blast it was awesome. Five starts baby. it was the most realistic movie I've ever scene. The first movie Rob Zombie did Halloween 2007 it was great to but it was more less wild. It was like the origanl Halloween once it became 15 years Later. This one HALLOWEEN II 2009 was wild it was realistic it was alot Gorier and bloodier and more violent and intense than Halloween 2007. Halloween II 2009 really rocked the house. It was really a great film! I should say Rob Zombie after Halloween III is done he should come back to do Halloween 4 and Halloween 5! Then go from there. I think the only problem with HALLOWEEN II 2009 though is that
January 23, 2010
I'm a big fan of the series and this didn't disappoint! Truth be told, this could be the best Jason movie EVER!
January 19, 2010
HALLOWEEN II is Jason's most frightening adventure of all! Seriously, leave the kids at home unless you want to be sitting up with them all night...
January 13, 2010
BRILLIANT! This movie actually makes you care about Jason and helps you understand why he does the things he does.
January 13, 2010
Not one of the better Jason pictures.